Sure none of us has liked this pandemic, none of us has enjoyed 2020 but despite of it all a couple of good things have resulted from it. We had a wonderful 4th of July Patriotic Car Parade and now we are going to have our first Christmas Lights Car Parade that not even Santa would miss. He is going to be in the parade!!
Note: We have reviewed the parade route after our recent snow storm and it seems our roads are clear and safe to drive. Should anything change we will adjust accordingly to ensure we have a safe and fun parade. If we don't go by your street, we apologize in advance.
When is the parade? Saturday, December 19th.
What time? It will start at our local neighborhood park around dusk.
To be in the parade, please line up by the park starting 4:45pm.
The parade starts and ends at the park.
The parade route has been expanded to include as many streets as possible but sadly not all. If you are in the parade route, I hope you come out to your front yard to see it go by. If you are not in the parade route then come out to the closest area you can so you can see it go by. Don't forget to wave and to cheer Santa as he goes by.
Below is the route map. Notice there are 2 maps showing different sections of the neighborhood.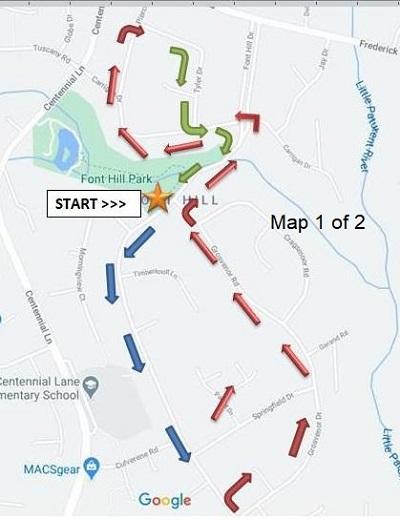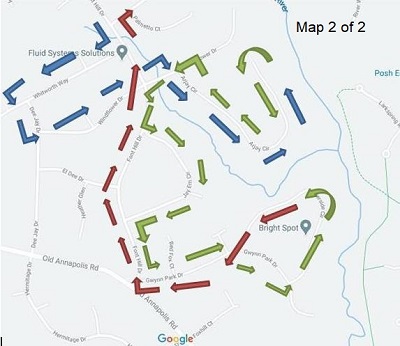 And here is the route, street-by-street.
The parade STARTS at the park
Drive Font Hill towards Old Annapolis road
Right unto Whitworth
Left at De Jay Drive
Left at Windflower and across Font Hill
Right unto Arjay Drive (do the loop)
Left unto Windflower (briefly)
Left unto Font HIll (towards Old Annapolis)
Left unto Jay Em Circle (go all around)
Left unto Font Hill (still going towards Annapolis road)
Left unto Gwynn Park Drive – stay right at the fork
Left unto Riverside Circle – stay right at the fork
Right unto Font Hill (now we are going back)
Right on Grosvenor Drive
Right on Font Hill (going towards Frederick Road)
Left at Carrigan Drive
Right unto Pierce Drive (the 2nd right)
Right unto Tyler Drive
Left on Carrigan Drive
Right on Font Hill (going back to the park)
END at the Park
Let's Celebrate the Season!